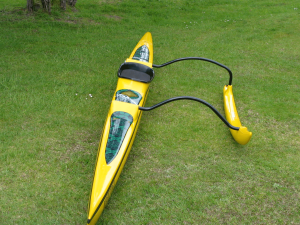 The "Surfrigger" one person outrigger canoe was designed for flat water sprint races. Performs well in flat to moderate conditions. It handles well with or without the rudder system. The balanced deck configuration and bottom contours makes it easier to steer in a side wind or following seas than previous designs available in New Zealand. The addition of a rudder system means that anyone can jump in and enjoy the speed and lively performance of this beautiful canoe.
Few things match the thrill of canoe surfing on ocean swells , wind chop or easy breaking surf. The small volume cockpit stays dry in most conditions and is capable of being fitted with a spray skirt.
The "Surfrigger" also makes and excellent cruising/recreational craft with the addition of a deck hatch for stowing supplies and is very stable making it excellent for diving and fishing.