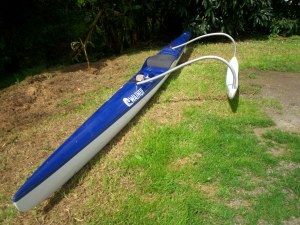 Maui Kjeldsen designed the WAINUI to serve as an all-around canoe for the average sized paddler, to be fast on flat water while excelling in sizable ocean conditions.
The Wainui glides in flat water and excels in rough, sloppy conditions as well.
Seat and ama configuration create a canoe that gives the paddler amazing control.
Specifications:
• 20′-10″ in length
• 15″ wide
• Sit in style seat for extra control
• Ama rides closer to the pivot point of the canoe in comparison to other OC-1 models for extra performance in rough water
• Very efficient footwell drains
• Double bungee storage in the front and back
• Bungee and paddle clip on back deck to carry a spare paddle