Moana Nui Polynesian Canoes and Paddles build and sell Waka (Outrigger Canoes), paddles and accessories. We also have a range of branded clothing, hats and accessories.
Moana Nui started as a small business in Pawerenga and is now based on the Tutukaka Coast, east of Whangarei.
The business is family run out of a farm shed on the property of the late Kris Kjeldsen.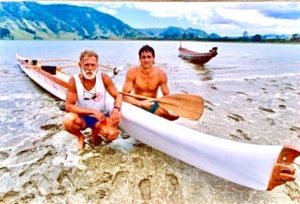 In 1987 Kris Kjeldsen started a company called Nga Hoe Horo Canoe Builders.
This company was started so that Kris, in partnership with the late Bo Herbert could build the fleet of W6 Waka for the IPCF World Outrigger Sprint Championship Regatta, held in Auckland in 1990.
The first W6 Waka they made was called the 1990 Design; 10 years later, Maui Kjeldson designed and built the next W6 which we know as the Mahimahi. He also went on to design the Maki W6 and not long after, Jason Lloyd upgraded the Mahimahi which is called New Generation.
In 1993 the name was changed to Moana Nui Polynesian Canoes and Paddles and Kris's son Maui Kjeldsen joined the business, where he designed and made canoes and paddles.
By 1996 Moana Nui was registered as a Limited Company.
A year later in 1997 Kris's daughter Kapua Kjeldsen became involved in the business for a year. She helped manage the admin side of the company as well as hand make the paddle bags and spray skirts.
In 1998 Kris's wife Alamein joined Moana Nui and they ran the company together until 2006, where Kapua rejoined the company.
Sadly in 2011 Kris passed away – It was a huge loss to his Whanau, Friends and the Waka Ama Community.
Kris Kjeldsen was adored not only for his nature but his amazing skills he used and passed on for making Waka.
From then until the present day, Kapua and her husband Jason now run the company where they strive to keep Kris's dream alive.
Currently, Moana Nui is still running from the same property in Matapouri, Whangarei where it will hopefully continue on for many years to come.
MOANA NUI'S VISION:
The vision and aspirations Kris had when he started the business was to have a company that could supply the New Zealand Waka Ama Community with Canoes and Paddles for their sport.
Kris was one of three key people responsible for the revival of Waka Ama in NZ.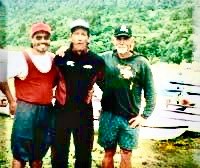 He was very passionate about the sport taking off again so for him, it was more of a lifestyle – he lived and breathed it and as a result, the sport and the company thrived and expanded together over the years.
Moana Nui has had some wonderful success over the years;
• In 1998 the Surfrigger was selected as the main W1 Waka to be paddled in the World Outrigger Sprint Championships held in Fiji.
• By 2000 the Seahorse was chosen as the main W1 Waka to be paddled in the World Outrigger Sprint Championships held in Townsville, Australia.
• Moana Nui was commissioned in 2006 to build a fleet of our Mahimahi W6 for the Outrigger Canoe Sprint Championships held at Lake Karapiro NZ.
Moana Nui has gone on to flourish and is primarily producing W4 and W6 Waka that sell all over the world.
We are continuously creating new designs and canoes that we offer at affordable prices and are immensely proud and excited to be a part of this amazing community.