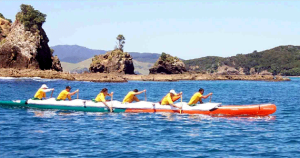 The "MahiMahi" was designed by Maui Kjeldsen in 1999 as an improvement over the 1990 model in rough seas.
It incorporates design ideas from Hawaii & Tahiti.
The MahiMahi has a higher volume hull and is more maneuverable, turning faster than other New Zealand designs. The hull shape makes it easy to catch steep ocean swells as well as smaller bumps, taking advantage of every lift the ocean offers.